Blog
---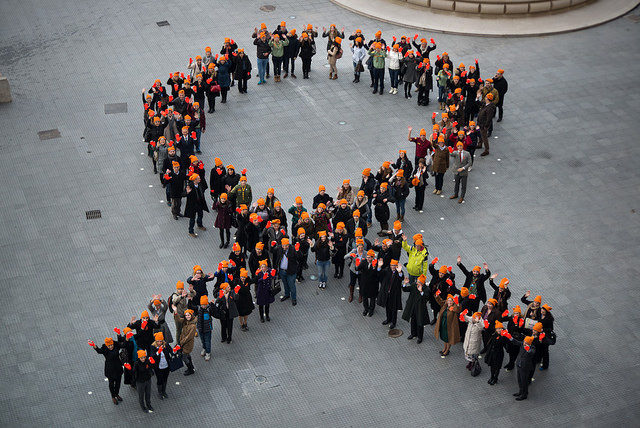 (c) UN Women Macedonia/Mirjana Nedeva
The Women who Shape Anti-Slavery: Policymakers and Professionals
Taking Slavery Seriously
My great grandmother lived in a time when women couldn't vote. That didn't stop her from trying. She went to the polls dressed up as a man. My great-grandfather, a soft-spoken and mild-mannered man, provided a sharp contrast to her firebrand personality. He like to read in his chair while she was out around town organizing women on various social issues. Sometimes I would like to imagine the expression on his face after he would hear about her activities. If she were alive today I know she would have that same spirit. She would want to change the world. She would want to stand up against inequality and fight for freedom from oppression. There are incredible women who are doing that around the world today.
On this blog, we have highlighted some incredible social workers, psychologists, and caregivers. But one of the many incredible things about the women of the TIP Report Heroes is that they don't conform to any one pattern, and they are not confined to any one profession. Some of the most influential and important anti-slavery activists in the world today are women, and they control and create policy at the highest level possible. Maria Grazia Giammarinaro, for example, holds an incredibly prestigious and important position within a large international organization: the OSCE. She is not alone in shaping the ways that the world thinks about slavery today. 
The Academics who set a New Bar for Anti-Slavery Scholarship
The leading legal academic of the anti-slavery movement is, without a doubt, Anne Gallagher. An Australian legal scholar, she has written prolifically about human rights around the world. She has served with various international civil service organizations, and been a resident expert at several councils and groups. She wrote and edited the first textbook-style legal text on the law of human trafficking, and she continues to be a primary voice in the legal scholarship surrounding human trafficking policy, law and implementation. She has partnered with Paul Holmes, another TIP Report Hero, to create briefing materials and recommendations for law enforcement. Anne Gallagher has no equal when it comes to her knowledge of the international legal framework surrounding human trafficking, and even the implementation of those policies at a country-level.
Alice Nah, who now teaches at York University in the UK, wrote her PhD Thesis on vulnerable groups of immigrants and refugees in Malaysia. An influential article she wrote on refugees between Malaysia and Burma in the border areas was published in 2009, and she specifically pointed to human trafficking and other forms of exploitation as the dangers that faced that population. She helped to found a group of lawyers and scholars who have contributed Amicus Curiae-style briefs to various legal parties in the region. Esohe Aghatise is a lawyer and an academic who specializes both in international trade law and in the law of human trafficking. She has founded her own organization, and she is a resident expert or advisor for several NGOs.
What about Women in Politics?
Important women have been entering the political sphere around the world for decades. Hilary Clinton is a great example of a prominent woman in politics here in the U.S., but women hold positions of power worldwide. One such woman, and a TIP Report Hero, is Eva Biaudet. A politician with a fairly long political career in Finland, she is currently the Finnish Ombudsman for Minorities. She held a prominent post at the OSCE, like Maria Grazia Giammarinaro, and has advocated for anti-trafficking policy on a regional level since the early 2000s. Whether it is immigration policies, which she talked about in a recent interview with the UN Regional Information Centre for Western Europe, or domestic criminal law and policy, she is continually advocating on a national level, a regional level and a continental level.
There have been other TIP Report Hero women in politics. Aida Mbodj in Senegal, for example, or Yasmina Baddou in Morocco are both prominent politicians in their own right. The point is this: incredible and amazing women are heavily involved in anti-trafficking work around the world. There are women social workers who have tirelessly worked with victims in various countries, and there are women politicians who are crafting policy that will change the way we treat victims, or perpetrators. There are women academics who are changing the way we think about slavery, and anti-slavery tools. There are women who encourage regional cooperation between governments and civil society.
"Feeling bad is just not good enough"
Months after winning the TIP Report Hero Award, Dr. Anne Gallagher wrote an article for The Sunday Morning Herald that was titled "Turning a Blind Eye to Modern-slavery No Longer an Option." As she says, in conclusion: "It's time to take slavery seriously. The exploitation of human beings for profit is everyone's business. We might not be able to end it, but now we know what's going on, feeling bad is just not good enough."
We chose to take the month of March to celebrate the women of the TIP Report Heroes, in honor of International Women's Day. The women policymakers of the TIP Report Heroes teach us an important lesson. They have, in Anne Gallagher's words, taken slavery seriously. Let us do the same.